Cyber Monday Sale
Register for one of our Spring or Fall Treffens, and receive an Additional $100 OFF
per person.

Deadline Extended to December 8th!

May be combined with one other promotional offer.
How Does Driving a Sports Car Through the US or Europe Sound?
Our US and Europe Driving Tours aren't simply created in an office in Oldsmar, Florida, but they are crafted by our European spirit, dedication, values and traditions. Our decades of experience and local knowledge underscore our philosophy where anything is possible and doing it the right way still trumps doing it the easy way. Which explains why we carefully select our exquisite hotels, awesome routes, superb cuisine, new PORSCHES or sports cars and experienced guides. So, if you are ready to enjoy Europe on a Driving Tour crafted by Americans who immigrated from Austria, France and Germany, plus a group of retired PORSCHE Company Executives in Stuttgart, then there really is no other choice, because it's our "business to do pleasure" since 1974.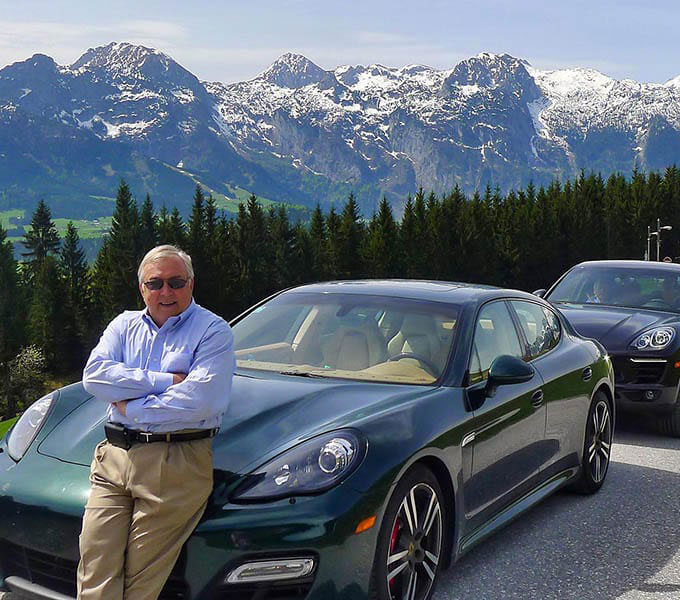 Fast Lane Travel – #1 Among Luxury Travel Auto Enthusiasts… Since 1974
Susan Brewer
LIFE IN THE FAST LANE
A "
True Story
" by Susan Brewer
Peter says… "Come One and All
To Stuttgart and you'll see,
The very best Octoberfest
Then race through Germany"
Everyone will choose a Porsche
We'll travel two by two,
All along the Autobahn
With the Fast Lane Travel crew
Craig and Jacoy
Jacoy and I cannot thank you all for one of the most amazing European trips we have ever been. I had heard the Peters trip were good, but this one was beyond my expectation.
The cars, the planned routes, the lodging and the food were fantastic. Each day, each event and each briefing were so well organized. The gifts each night delivered to our rooms with a card, with the upcoming event for next day was very much appreciated.
We look forward to our next trip with Fast Lane Travel.
Bob & Cherie
Hey Peter: You're right, it's been six years since our last Fast Lane adventure. Another trip is on the bucket list, which is why we were talking to Robert at Porsches in the Park in Sarasota last Saturday. Stay tuned. By the way, it's your fault that I finally bought a 911 after thirty years of driving Corvettes. Within months of returning from the Treffen Plus I was searching for my first 911. I've never looked back!
Mike & Pat V.
Houston, Texas
We had a wonderful time, met some new friends and crossed some stops off our bucket list. Keep up the great work – and you all do go the extra mile to make sure your clients have exceptional experiences!
Kurt T.
Boca Raton, Florida
Everything and everybody was great! We really enjoyed it!
Samara C.
Anaheim, California
This was my 9th trip, I have traveled solo or with friends, but I have always made new friends in Fast Lane Travel. I met my two best buddies Laurie (White Christmas in Vienna) and Bonnie in 2010 on a Porsche fest. The three of us travel together once or twice a year.
Tom & Ellyn M.
Sewickley, Pennsylvania
Fast Lane Travel and Peter Sontag always provide an excellent tour. Can't imagine a better experience. The resorts and meals are top notch and so is his ability to find great locations we might have missed traveling on our own. Keep up the good work Peter.
Ricardo & Maria S.
Key Biscayne, Florida
The Team is great as always; everyone goes out of the way to be helpful. Good Job.
Barbara & John R.
Columbus, Ohio
We heard about your trips through our friends Martha and Steve. This was an excellent referral from friends. The tour exceeded our expectations.
Margaret & Jim B.
St. Paul, Minnesota
This was our second Fast Lane trip. It was a wonderful trip. Great to be with our old friends and meet new friends. The special events we did, the Zeppelin ride, helicopter and paragliding were fantastic. Love Fast Lane Travel.
Suzie & Bud W.
Wheaton, Illinois
We heard about Fast Lane Travel through Porsche Panorama magazine. We have planned to take a driving trip like this for years. Our high expectations were met. Some real pluses included a car selection, baggage truck, walkie-talkies and a great group of guests including the Fast Lane staff.
Marla & Bill M.
Richmond, Virginia
This was our second Fast Lane Travel trip. We decided on this trip based on conversations with Peter and his commitment to lead the tour. The tour was classy and well-planned. I loved the GTS. Our expectations were exceeded!
Beth T. & Bruce W.
West Palm Beach, Florida
My best driving trip ever! Great commentary on the areas' sites and history. Well organized! Made me a better driver.
Robert N.
Sparta, New Jersey
This was my 5th Fast Lane trip. I've always wanted to travel the Alpine passes. My expectations were to build memories with my sons. Everyone was blown away. As usual… Peter totally exceeded all expectations. Really!!! Every trip has exceeded my expectations.
Michelle & John B.
Houston, Texas
Driving was spirited! I had heard so many good things about Fast Lane Travel. Plus, it was a turn-key operation.
Laurence & Karen K.
Webster, New York
This tour was not your Grandfather's tour. It was a rush for drivers' in their PORSCHES. It just doesn't get any better!
April & Ed Z.
Crownsville, Maryland
This was our 2nd Fast Lane trip. The Alpine passes and switch backs were awesome!
Archie U.
Nokomis, Florida
I found out about the trip through the internet. Alps tour was what I was looking for. Thomas was a great guide. All the planning exceeded my expectations!
Chris Chorba
Pasadena, CA
This was the trip of a lifetime! Your Florida Staff helping me map everything out; Fabian escorting me from Frankfurt Airport to the Nürburgring. You have a fabulous Fabian– Johny – Miro European support team! I really had an amazing experience and wouldn't hesitate to recommend the trip to anyone. If you love Porsches, driving, great food, beautiful scenery, and excellent company, then don't wait – book today! Thank you ! ! !
Ray and Diane Tsui - Euro Delivery
Tempe, AZ
I wish to send a big Thank You to you and your team. The detailed planning, hotel arrangements, and superb dining recommendations have made it a very memorable trip. Diane and I particularly enjoyed the visits to the 3 beautiful lakeside locations of Lindau, Ascona, and Konstanz. Each of them offered uniquely different experiences that we will remember forever!
The Latest From the PeterBlog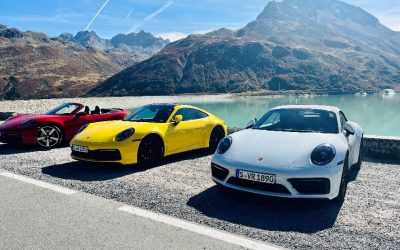 Thursday, October 12th, 2023: Today we said goodbye to the beautiful Interalpen Hotel and Austria. We loaded up the luggage in the morning and headed down to the parking garage. On our way to Lindau, Germany via the Silvretta Hochalpenstrasse, we stopped to…
read more