The Ultimate Tuscany PORSCHE Fest!
Join the fun and drive a new model 2022 PORSCHE for nine days across the Alps to Tuscany. We rent a private estate in Tuscany close to Siena, Florence and Montepulciano. Not only will we have a fun drive through the Alps to get there, but also, we will participate in the local culture – it is wine harvest time. You will enjoy a cooking class and wine tasting, and planned excursions to Florence and Siena. We will also drive part of the legendary Mille Miglia road on our legendary fun photo rally. It's our 10th Tuscany trip – it usually sells out very quickly every year. You'll also enjoy some unique experiences that you could never do on your own, like parking with a police escort in Tuscan towns' Pedestrian ONLY Zones! That's the Fast Lane Advantage.
All accommodations, gourmet meals, cocktails and beverages, luggage van, car washes (dependent on water restrictions), gasoline, taxes and gratuities are all included per itinerary. Don't miss out on all the fun – sign up today!
In Progress
$15,498
Deposit – $3,000 per person
$15,498 (per person, based on double occupancy)
$20,934 (per person, based on single occupancy)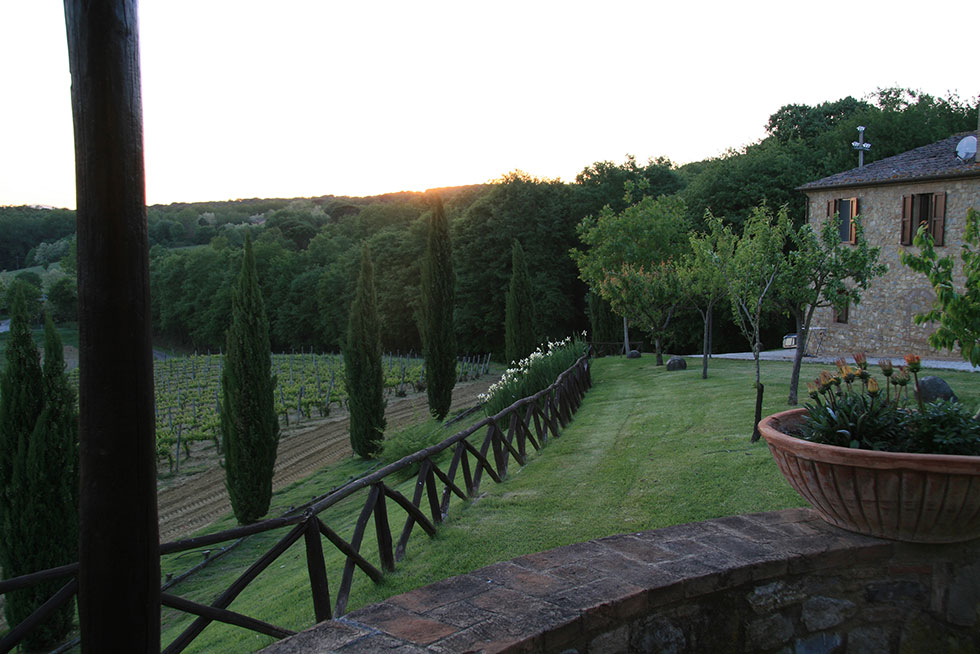 DAY 1 - Depart from Home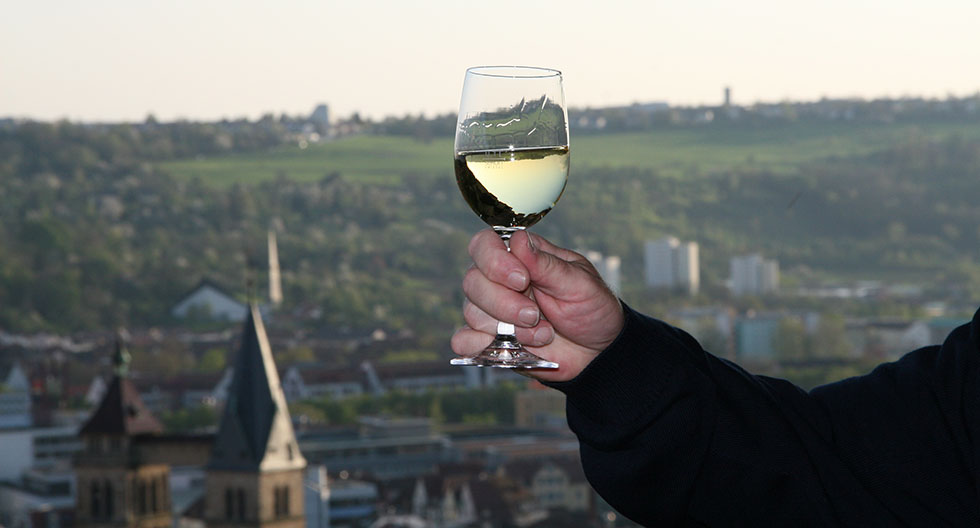 Monday, October 3 – Depart from your home for your overnight flight to Europe. If possible, we recommend that you arrive at least a day early (i.e., leave home on Sunday, October 2nd) to have more time to relax, adjust to the time change and enjoy the area. Call about our Early Arrival Program (hotel and dinner).
DAY 2 - Stuttgart, Germany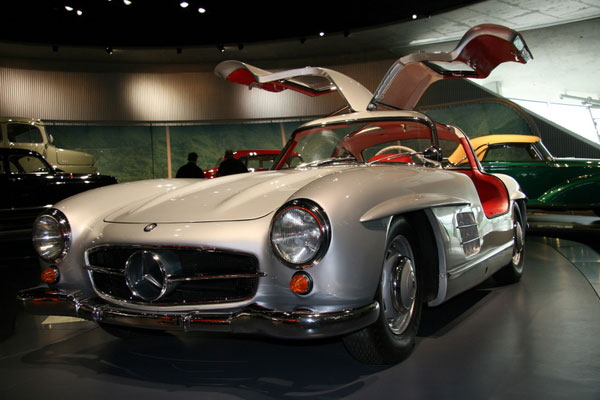 Tuesday, October 4 – Upon arrival in Stuttgart you will be met at the Stuttgart (STR) Airport and transferred to our hotel, the Steigenberger Graf Zeppelin Hotel. After you check in and freshen up, we will meet for an important Drivers' Briefing and complete the PORSCHE car rental paperwork, followed by a luncheon in one of the hotel's local restaurants: The Zeppelin Stüble.
After lunch, we will visit the Mercedes Museum for a fascinating look at the history of motor vehicles. This evening, we will enjoy a special Welcome to Germany dinner and drinks at the Stuttgarter Stäffele.
DAY 3 - Seefeld, Austria (~333kms/207 miles)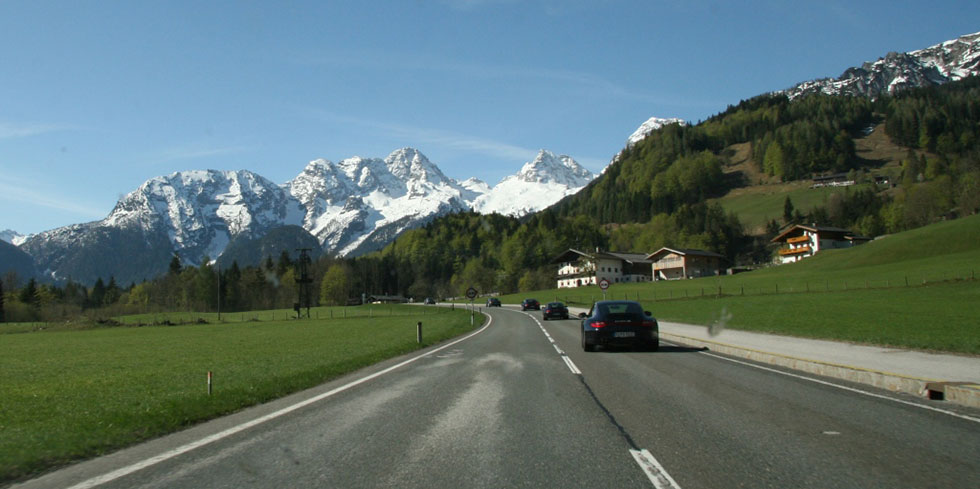 Wednesday, October 5 – Following another lavish breakfast at the Graf Zeppelin, please pack an overnight bag for our night in Austria, and have your other luggage ready to be loaded on the luggage truck for transfer directly to Italy. Your PORSCHES will be lined up in the courtyard of the hotel. We will introduce you to your PORSCHE, including familiarization with the PDK Transmission, the Navigation Systems, the essential rules of the Autobahn and the various routes to be driven. And, thinking of "everything" your Austrian Autobahn Permit "Vignette" is already installed.
We will drive the no-speed limit German Autobahn and country roads on our way to Austria. You will be a member of the renowned 150 MPH Club. We will stop for lunch at Schloss Angeralp, a magical place up in the Bavarian Mountains, and then continuing over the Hahntennjoch Pass to Seefeld, Austria. After checking in to the Astoria Spa Hotel, we will have time to relax at the hotel with spectacular views of the Alps. Tonight, we will have a wonderful dinner at the hotel.
DAY 4 - Tuscany, Italy (~592kms/368 miles)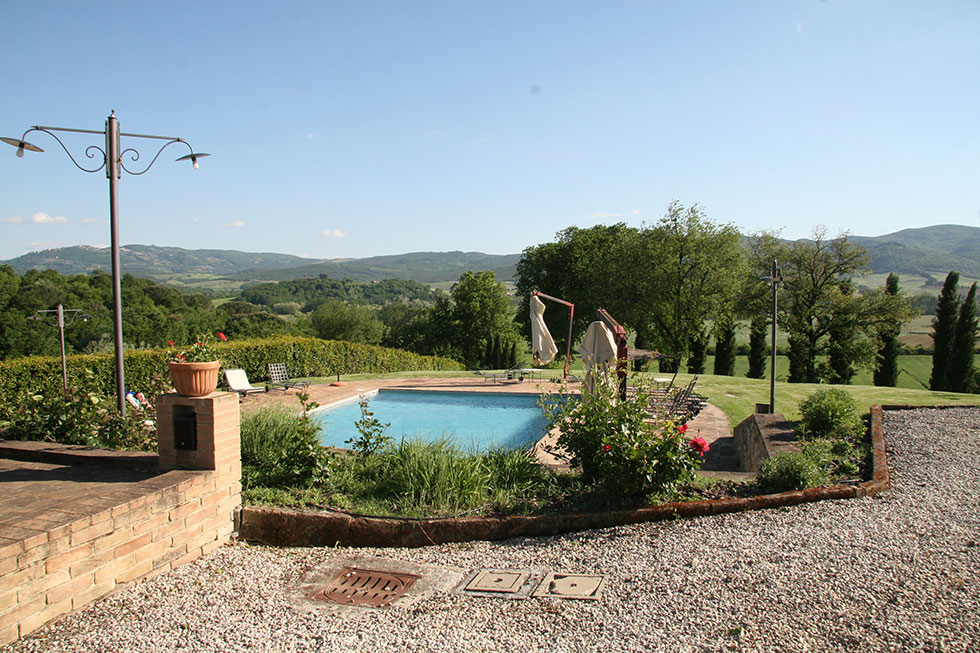 Thursday, October 6 – Enjoy a fabulous breakfast. Following breakfast, check out of your hotel and drive to Tuscany!
We will head south crossing the famous Brenner Pass, then passing Bologna, Modena and Florence and check in at our Tuscan Estate: Casali di Bibbiano in the early afternoon. Your luggage will already be in your room at the Casali di Bibbiano. When we arrive, we will be greeted by Alberto Guadagnini, our host and owner of the estate, and enjoy canapes and welcome drinks by the pool. We are, in essence, at a private home with a completely different ambiance and enjoyment than last night's hotel in Austria.
The only thing planned for the rest of the day is to settle in, enjoy a glass of wine on the terrace, perhaps take a swim in the crystal-clear pool, use the gym, or just take a stroll through the acres of vineyards. We will have an orientation, a tour of the wine cellar and presentation of entertainment options. Alberto and his staff will cook a welcome dinner for us tonight.
DAY 5 - Tuscany-Siena, Italy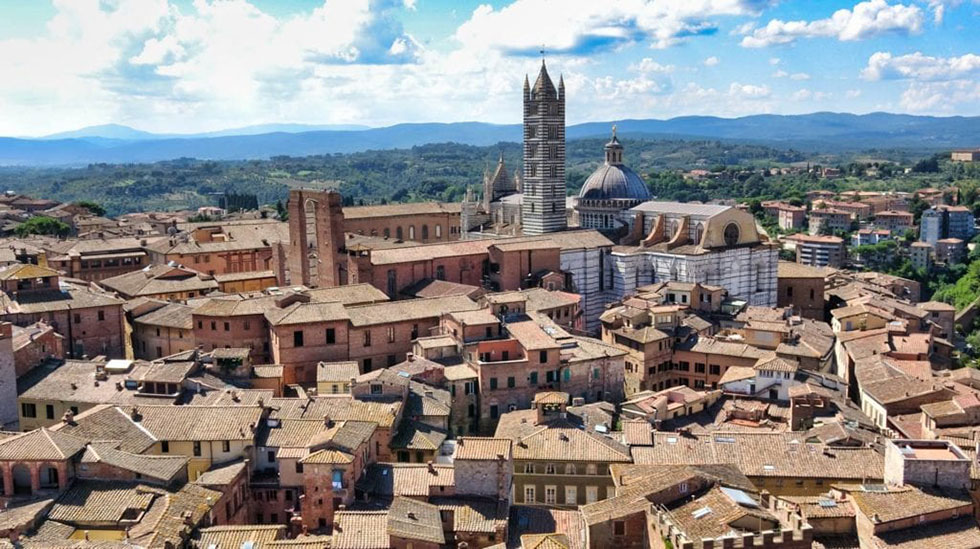 Friday, October 7 – Enjoy a lovely breakfast at Casali di Bibbiano overlooking the Tuscan countryside. Today we will take a private motor coach to Siena and have a guided tour of this scenic city.
When we return in the afternoon, Alberto will be our instructor for a special cooking class. This evening, we get to enjoy the fruits of our labor with cocktails and dinner at Casali di Bibbiano.
DAY 6 - Tuscany-Montalcino-Pienza, Italy (~160 kms/99 miles)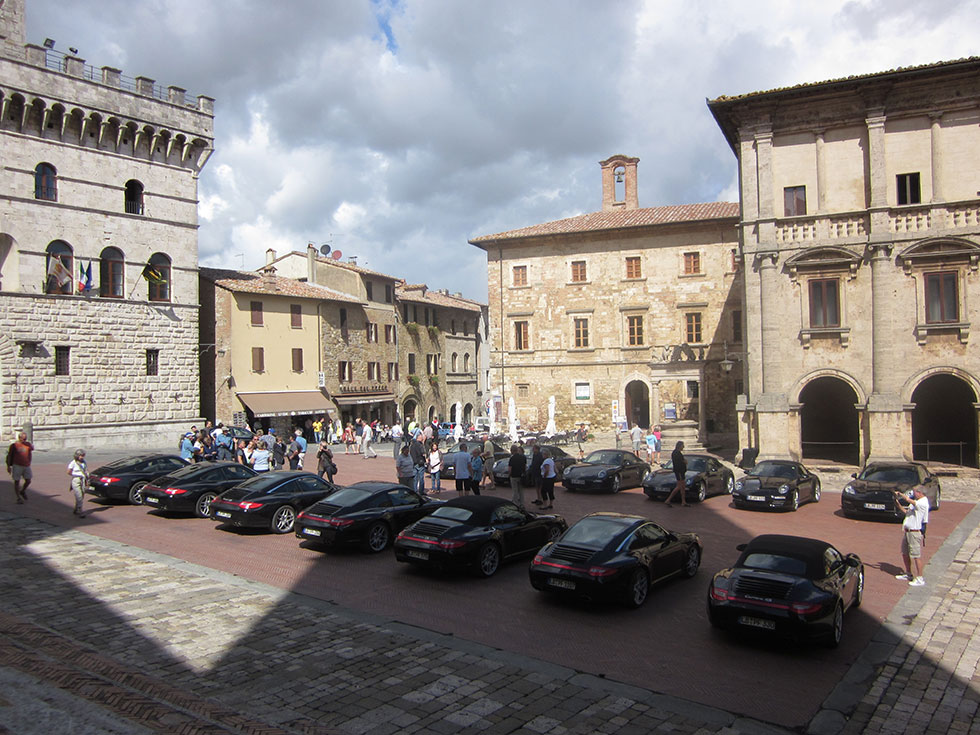 Saturday, October 8 – Enjoy a lovely breakfast at Casali di Bibbiano overlooking the Tuscan countryside. We will once again, enjoy a delicious breakfast at Casali di Bibbiano. Today we will explore the Tuscan countryside with several interesting stops along our route.
First, we will make the short hop to Abbey Beneditta Olivetana, which is the Benedictine Monks' Abbey and the Order's headquarters. We will get a brief guided tour of the courtyard with its amazing frescoes. After the tour, we will get back into our PORSCHES and continue to Montalcino. The Rocca of Montalcino was built in 1361 in the form of a walled castle with a pentagonal layout. The town has the typical charming narrow streets and alleys along with a number of shops selling local pottery, wines and olive oils.
Of course, no cars are allowed inside this medieval town – guess who parks their PORSCHES in the middle of the place?
We then continue to Pienza. We have made reservations for lunch on the terrace at La Piazzetta, a delightful local restaurant.
After lunch, you will have time to explore this town and its many shops, piazzas, churches and bastions. We have secured preferred parking at all three venues which is always challenging in Italy. In the late afternoon, we will return to Casali di Bibbiano for a wine tasting and relaxing evening. Tonight, we will have dinner on the terrace overlooking the valley.
DAY 7 - Tuscany-Florence, Italy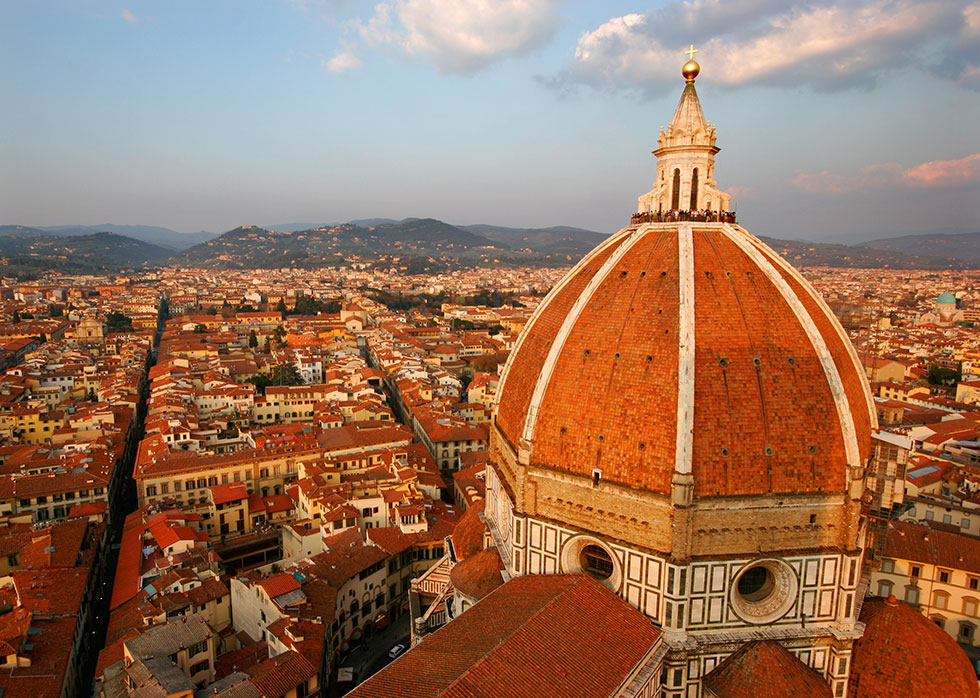 Sunday, October 9 – At breakfast, we will get an initial presentation by our guide about today's program and the sights we will enjoy. You will have the opportunity to ask questions and indicate any requests you might have. We will then head out in our private air-conditioned motor coach to Florence. Drinks will be available on the bus. This city of approximately 1.5 million in the metropolitan area is the treasured art history heart of Italy. We have a full-day program in Florence, including, of course, the Pitti Palace and Uffizi Gallery.
Even if you have been to Florence before, this will be a memorable day. Lunch will be on your own at one of the many bistros in Florence. We will designate a time and meeting point for our return late afternoon to Casali di Bibbiano. Tonight we will enjoy a Bar-B-Q dinner by the pool along with Italian operatic entertainment – it will be quite an evening! Alberto will have another selection of wonderful wines for us.
DAY 8 - Tuscany, Italy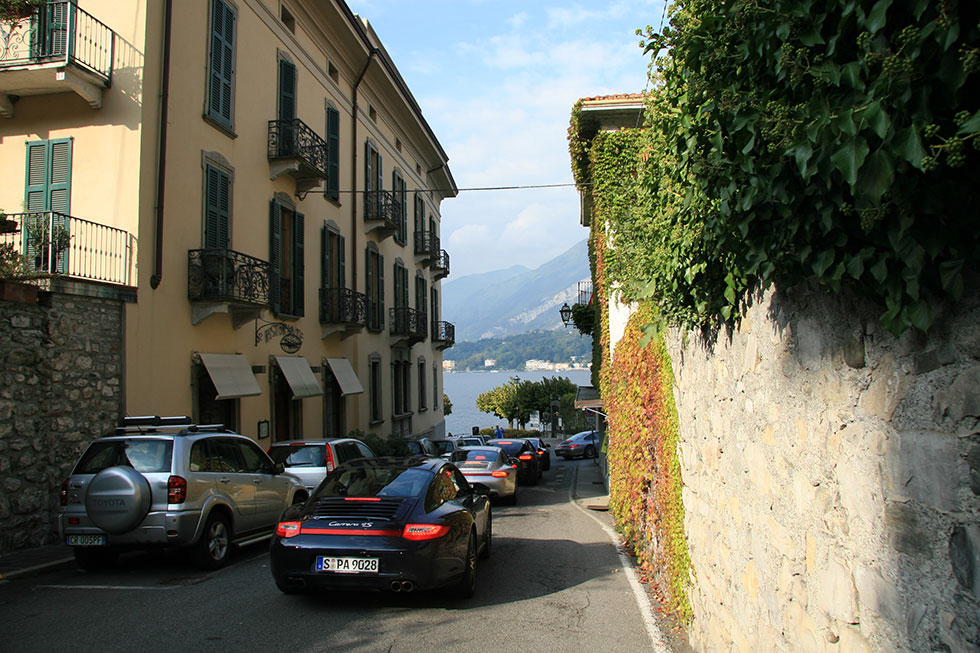 Monday, October 10 – After a lovely breakfast on the terrace, both drivers and navigators will get a detailed rally briefing. We will drive southwest to Torrenieri, San Quirico and we will make a pit stop in Bagna Vignoni where the Romans enjoyed the local hot springs and R & R.
From there we will drive through the countryside past Chianciano, ending up in Montepulciano where we have arranged secure parking. Montepulciano is a major producer of food and drink and is known world-wide for its fabulous Vino Nobile wine. Montepulciano is also known for its pork, cheese, "pici" pasta (a thick, rough, chewy variant on spaghetti), lentils, and honey. The rally will be completed before lunch – which will be served on the terrace of a lovely restaurant in the heart of Montepulciano – Café Poliziano. After lunch, you will have a chance to stroll the streets and do some shopping. You may drive back to Bibbiano on your own. Tonight will be our famous rally dinner where "valuable" prizes will be awarded.
DAY 9 - Tuscany, Italy (Photo Rally Day)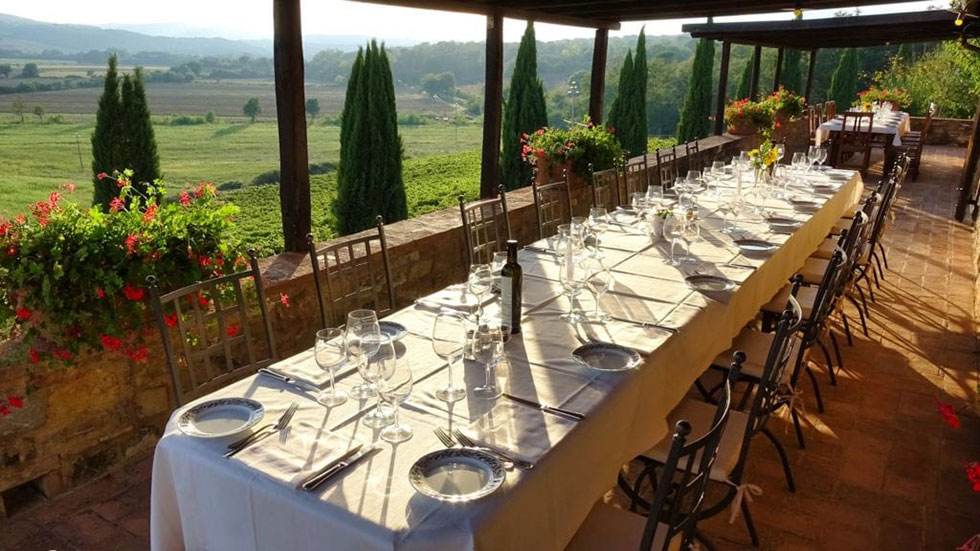 Tuesday, October 11 – Today, we will have an early breakfast at Casali di Bibbiano and have our entire luggage, including all the stuff we purchased, ready to be loaded onto the luggage truck for transfer to Telfs, Austria. We will then say farewell to Alberto and his wonderful staff and take off in our PORSCHES.
As we depart from Casali di Bibbiano, there will be some country road driving as we head towards Florence, and from there the toll road (or Autostrada in Italian) will take us straight north into Austria. Our drive today takes us through three different regions of Italy: Tuscany; the wine country with its many castles; and the scenic South Tyrol across the Brenner Pass.
We will check in at the Interalpen Hotel in the afternoon where our luggage will be waiting in our rooms. We will have time to relax and explore the hotel after arrival. We will enjoy cocktails on the terrace of this lovely Alpine hotel before enjoying a lavish dinner at the hotel.
You will sleep well tonight in Alpine splendor!
DAY 10 - Telfs, Austria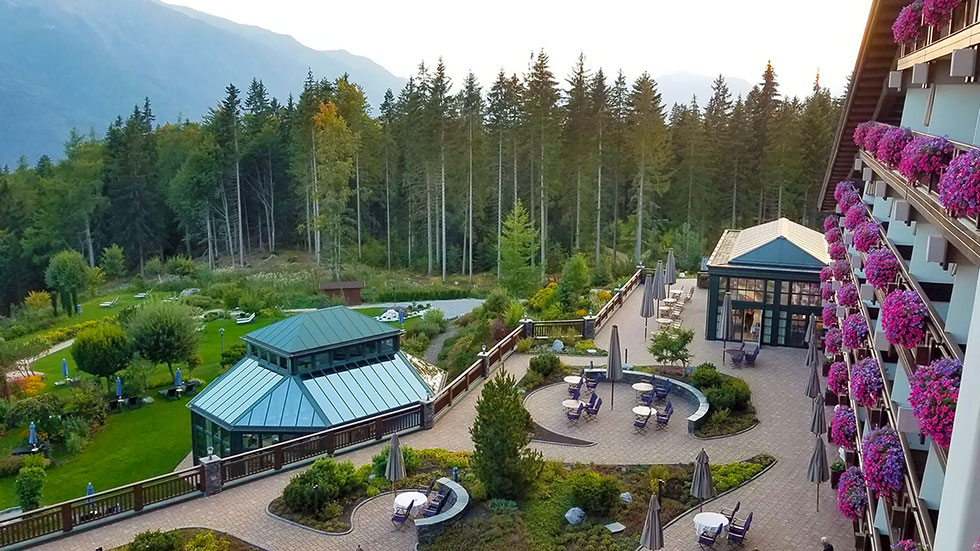 Wednesday, October 12 – FREE Day at the Interalpen
Today you may sleep in and relax in the fresh air of the Alps. Today is a FREE day for you to enjoy at this fabulous hotel located in the midst of gorgeous scenery. The hotel offers many activities for you to enjoy or you may just want to indulge yourself with a relaxing spa treatment.
DAY 11 - Lindau-Stuttgart, Germany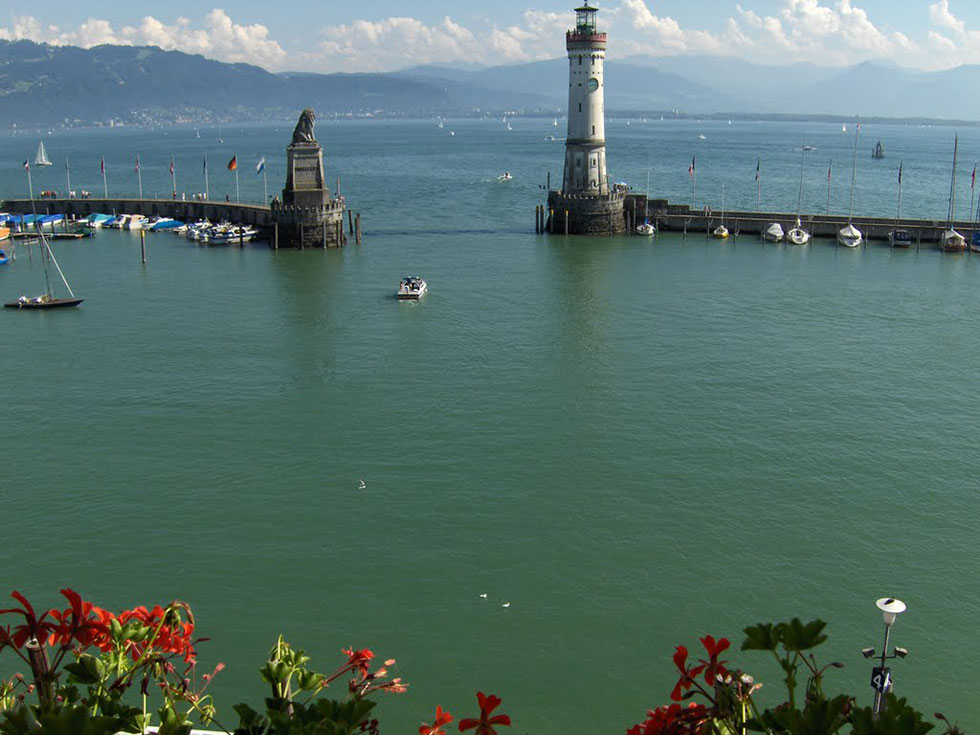 Thursday, October 13 – Enjoy a hearty breakfast at the Interalpen Hotel. Be sure to have your luggage ready to be loaded on to our luggage truck for transfer back to the Hotel Graf Zeppelin in Stuttgart. After checking out of the Interalpen Hotel, we will drive over the most scenic Alpine Road, weather permitting, the Silvretta Hochalpenstrasse.
We will stop for lunch at the Hotel Bayerischer Hof overlooking Lake Constance on the island of Lindau. From there, we will head back to Stuttgart, driving primarily on the Autobahn. The section of the Autobahn between Kempten and Ulm has no speed limit and we should have plenty of opportunity to renew our membership in the 150 mph Club, if you like.
We will check into the Hotel Graf Zeppelin. Your luggage will be in your room. Unfortunately, we will also have to return our PORSCHES today. Tonight, we will enjoy a wonderful dinner with two other groups at the hotel on the Mezzanine Level of the hotel.
We will return to the Hotel Graf Zeppelin after dinner for another good night's rest.
DAY 12 - Stuttgart, Germany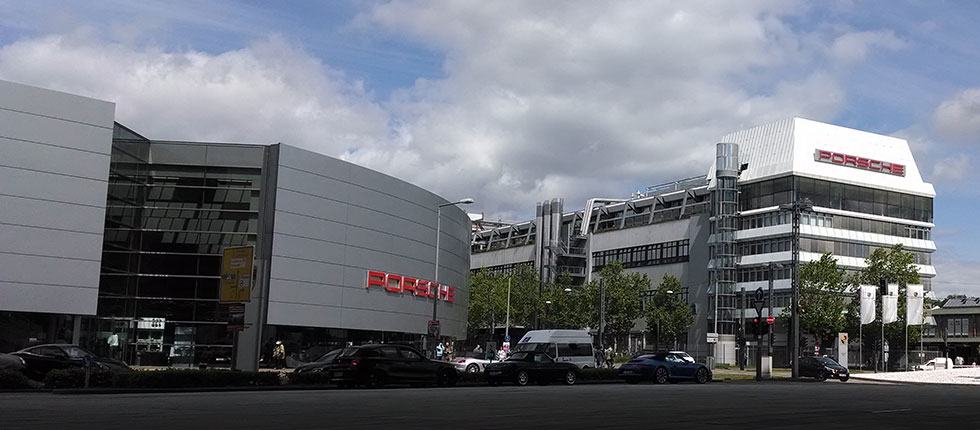 Friday, October 14 – Breakfast can be enjoyed on the Z level of the hotel. You will have plenty of options at their lavish buffet.
After breakfast, we will transfer to Zuffenhausen PORSCHE Zentrum for a guided tour of the PORSCHE Museum. We will have lunch at the PORSCHE Museum before our exclusive tour of the PORSCHE Factory. You will also visit some closed-to-the-public behind the scenes areas like the Neuwagenauslieferung (New Car Delivery), Kundenzentrum (Goodie Store) and Special Selection. For those who have been there or prefer not to visit the Factory, we have an optional tour to the impressive Baroque Castle Ludwigsburg.
Tonight we are planning a fun dinner at the famous Stuttgarter Weinfest. What a great opportunity to hang with the locals; sample local wines and enjoy the Swabian Cuisine the area is famous for. You will love it.
DAY 13 - Stuttgart, Germany - Depart for Home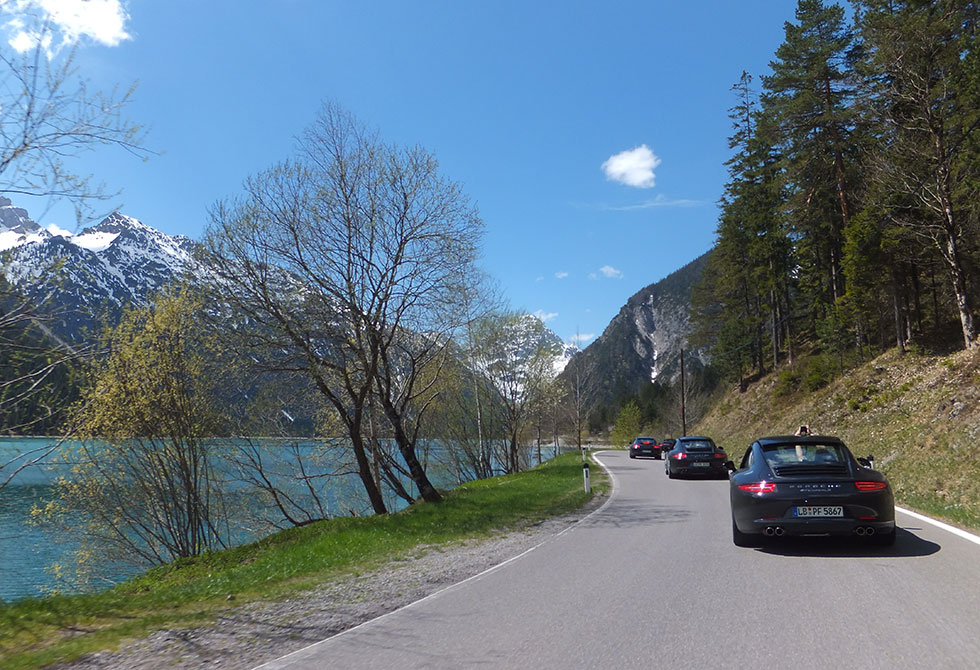 Saturday, October 15 – Return to North America – or continue in Europe. After another opulent breakfast at the Graf Zeppelin, you will be transferred to the Stuttgart Airport or to the train to the FRA Airport terminal for your homeward flight or continued travels.