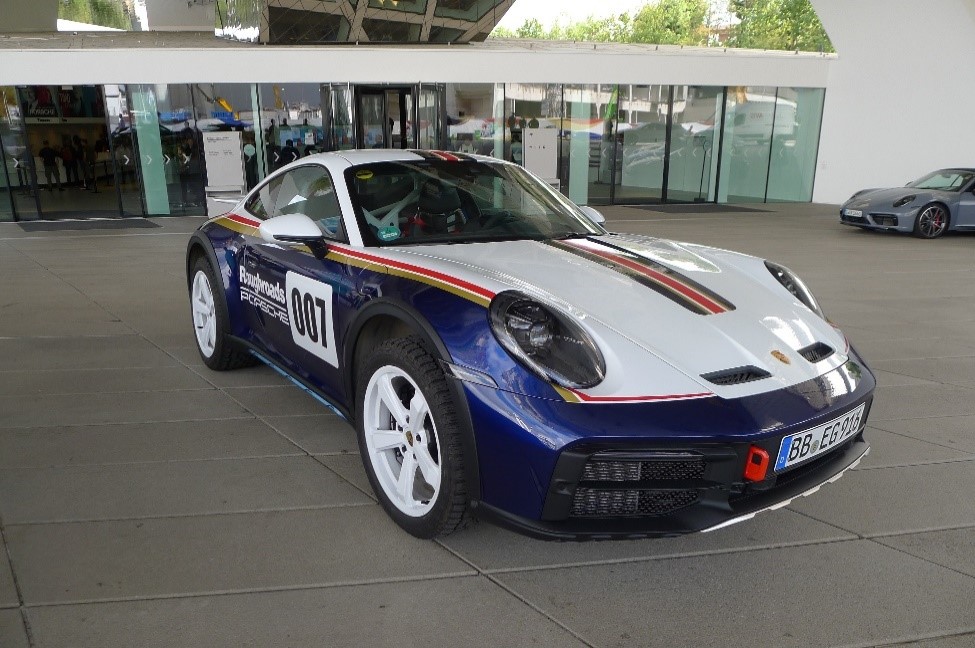 Saturday, September 23rd, 2023: Today is our first driving day. Everyone was perfectly on time this morning for our 8:30 am departure. Miro has the large luggage loaded and is ready to head to Bavaria. Our PCA PORSCHE TREFFEN group got onto our motor coach with our "carry on" luggage and headed to the PORSCHE Factory & Museum in busy Zuffenhausen. There a 911 Dakar was waiting for us. Well, not exactly just for us. It is the latest rare 911 of which they are only making 2,500 at about $225,000 each. It's the legendary Paris to Dakar Rally Porsche for street use. The 911 Dakar features a jacked-up suspension, all-terrain tires and an anti-lock braking system, ideal for loose gravel and desert sand. It was today's focal point at the Porsche Museum.
In addition, and perhaps for our immediate objective our rental Porsches were lined up under the stunning Porsche Museum mirrored ceiling canopy. The Porsche team did a remarkable job getting ready for us.
We completed all the paperwork – passport, international driver's license and the credit card used when the reservation was made. Miro and Fabian distributed the walkie talkies to each car and pre-programmed the navigation to our first two destinations. You can also see Miro's luggage van in this picture. From there he headed straight to Lindau, on Lake Constance.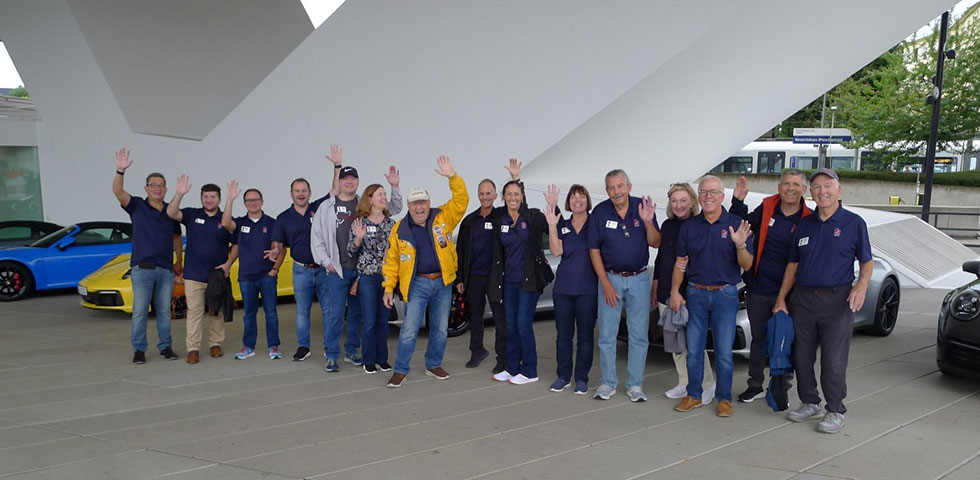 Fabian and I were in the lead 911 Coupe, right behind us were Roger and Susan from Virginia who had picked up their gorgeous Panamera GTS in Leipzig about three days before the TREFFEN. The wing team were Guy and Elizabeth from Florida in a very fast Turbo S. In between, we had Mark & Eileen on their 9th trip with us and their nephews Brian and Daniel, also experienced Fast Lane repeat trip experts. Mark and Eileen are also gladly continuing on the Interalpen Porsche Fest – after the TREFFEN. In between Susan, our agency manager, who has designed a wonderful few days in Milan for them, which will be followed by a few days in Vienna, (my birthplace) where I will be their personal guide. I will take them to places that the "Band of Brothers" hadn't even discovered. John and Linda from Rhode Island and Drs. George and Fred from California and Massachusetts respectively, were driving beautiful 911 Cabriolets each. The team was rounded out by Brian and Jamison in a 911 Coupe, who had to leave the trip early to attend the Rennsport Reunion. They are having such a good time that Brian swore on a stack of Fast Lane brochures that they'll be back in 2024 for the Twelve Alpine Passes Porsche Fest.
After Ferry Porsche's inspiring words we headed out; safely connected with our walkie talkies; The Porsche NAVI Systems programmed; plus our NAVI Roadbook ready and reviewed. I placed Roger and Susan in their new European Delivery Panamera GTS right behind Fabian and me (the lead car) because their Panamera did not have the European navigation system. However, the good news is that Google navigation and WAZE works in Europe. Thus the phone navigation systems are OK. When I picked up my Panamera GTS, I ordered the European PORSCHE Navi System because I kept the car here for about 6 months to conduct the tours. It was less expensive than renting a car for six months. All the rental PORSCHES have the PORSCHE Navi System installed. It is a very user friendly and intuitive system.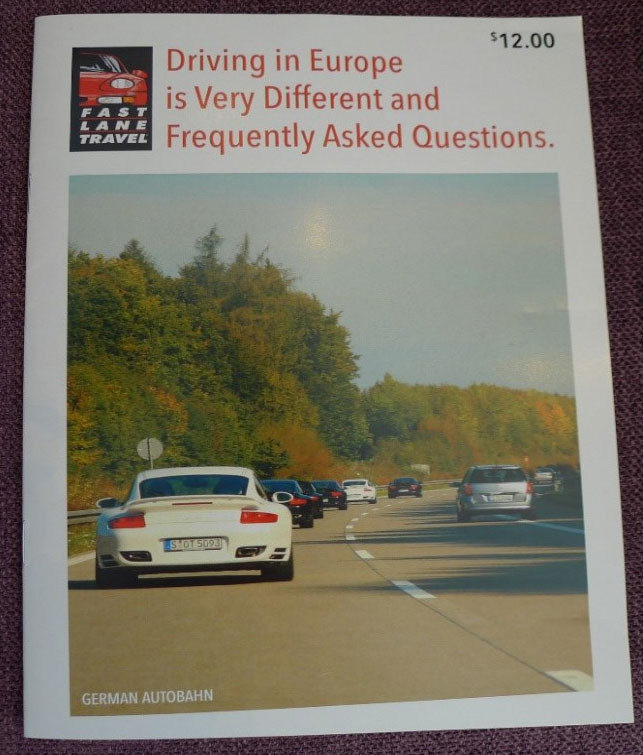 We left the PORSCHE Museum in a neat group, did a 270 degree turn at the Porscheplatz Roundabout and headed north to the A-81. North you ask? Yes, because that is THE most efficient way to depart the Porscheplatz. In about 10 minutes were looped onto the A-81 South toward Karlsruhe and München. In this dense urban commuter area, there is a 120 kms (72 mph) speed limit. About 10 minutes later we were on the A-8 heading East past the Stuttgarter Degerloch (STR) Airport and the new "Messe" Zentrum. Once past the airport we saw our favorite Autobahn Road Sign: NO SPEED LIMIT. It was a sunny day, there was little traffic and the Autobahn was straight and smooth. Fabian was driving. He slammed the gas pedal down and we were instantly propelled to 200 km/h then topping out a 260 km/h – about 162 mph. Initially the rest of the team hung back a bit, but they quickly caught on after I told them through the walkie talkie that the gas pedal is on the right. How is it possible that in the US the fatality rate on our Interstate Highway System is 2½ times higher than the Interstate Highway System in Germany? About half of the Autobahn has no speed limit. It is one heck of a lot safer to drive here on the no speed limit sections than at 55 mph in the US. This is possible because of their drivers' training, laws, national abhorrence of drinking and driving and a superbly designed and maintained highway system. There isn't a single pot hole on the gently banked curves of the Autobahn. Please read our publication "Driving in Europe is Very Different and Frequently Asked Questions". Please don't ever drive in Europe without having been on one of our tours, or at least have read and understood the content of this booklet. It could save your life and certainly make your trip safer and more enjoyable.