PCA Traditional Spring TREFFEN
Join us and your Fast Lane Travel companions for another exceptional PORSCHE Fest in Germany! We begin our adventure in Stuttgart at the beautiful Steigenberger Graf Zeppelin Hotel. Experience the local German cuisine, along with German wines and beer.
We will drive the Autobahn, country roads in Bavaria and iconic mountain passes in Austria and Germany. Stay at the delightful Hotel Bayerischer Hof, a luxury hotel located on the banks of Lake Constance, and enjoy drinks and dinner overlooking the harbor. We will take a privately guided tour of the PORSCHE Museum.
We'll go to the Cannstatter Frühlingsfest. This is just like Oktoberfest in Germany, but in the Spring. You'll experience the food, festivities, music and of course, beer, at a volksfest in Germany at our private seating area. It's an experience you'll never forget and a wonderful end to your TREFFEN!
All accommodations, gourmet meals, cocktails and beverages, luggage van, car washes (dependent on water restrictions), gasoline, taxes and gratuities are all included per itinerary. Don't miss out on all the fun – sign up today!
Tuesday, April 16 – Monday, April 22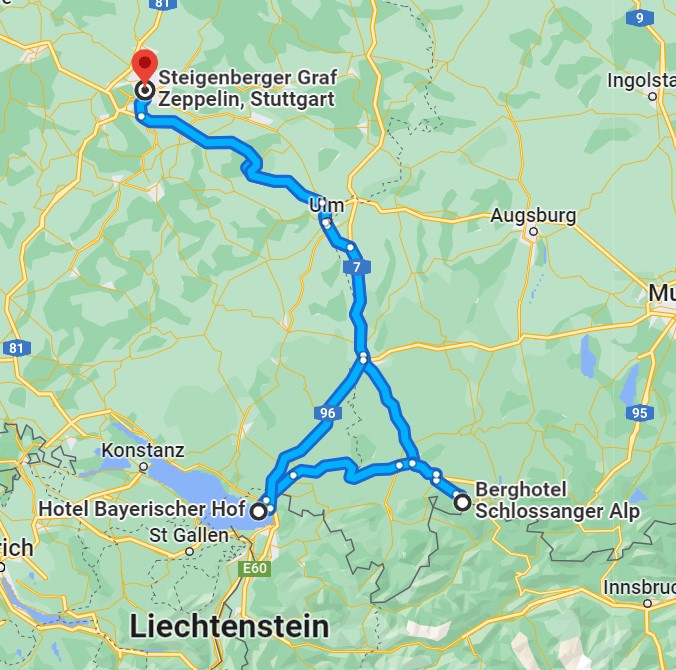 Driving Distance:
~ 600 kms / 373 mi
HIGHLIGHTS:
Ludwigsburg Castle Tour, PORSCHE Museum & PORSCHE Factory Tours, Autobahn to Bavarian Alps, Lake Constance, Cannstatter Frühlingsfest (Oktoberfest)…
Deposit – $1,500 per person
$6,498 (per person, based on double occupancy)
$7,299 (per person, based on single occupancy)
WHAT'S INCLUDED:
Luxury accommodations
Gasoline (at $11.20 per gallon)
Cocktails, wine & beer in the evenings
Multi-lingual guides
NAVI Roadbooks
Driving in Europe is Different booklet & briefing
Meals included as noted (

B

reakfast,

L

unch,

C

anapés,

D

inner)
Autobahn tolls and parking fees
Gratuities and entrance fees
Walkie-talkies on the road
Pocket itineraries
Who's Who booklet
Please NOTE:
your base PORSCHE rental is rented by you from PORSCHE Drive in Stuttgart. It will be a separate cost from the tour. We can assist in securing your PORSCHE rental.
Click here to see pricing and choices
(subject to change).
DAY 1 - Depart from Home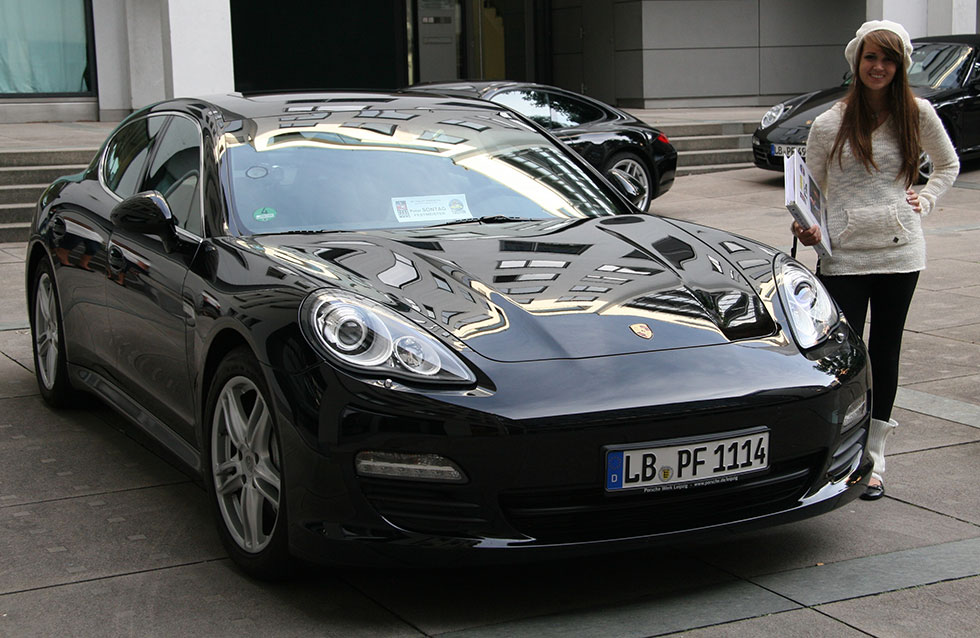 Tuesday, April 16
Depart from your home for your overnight flight to Europe.
DAY 2 - Arrival in Stuttgart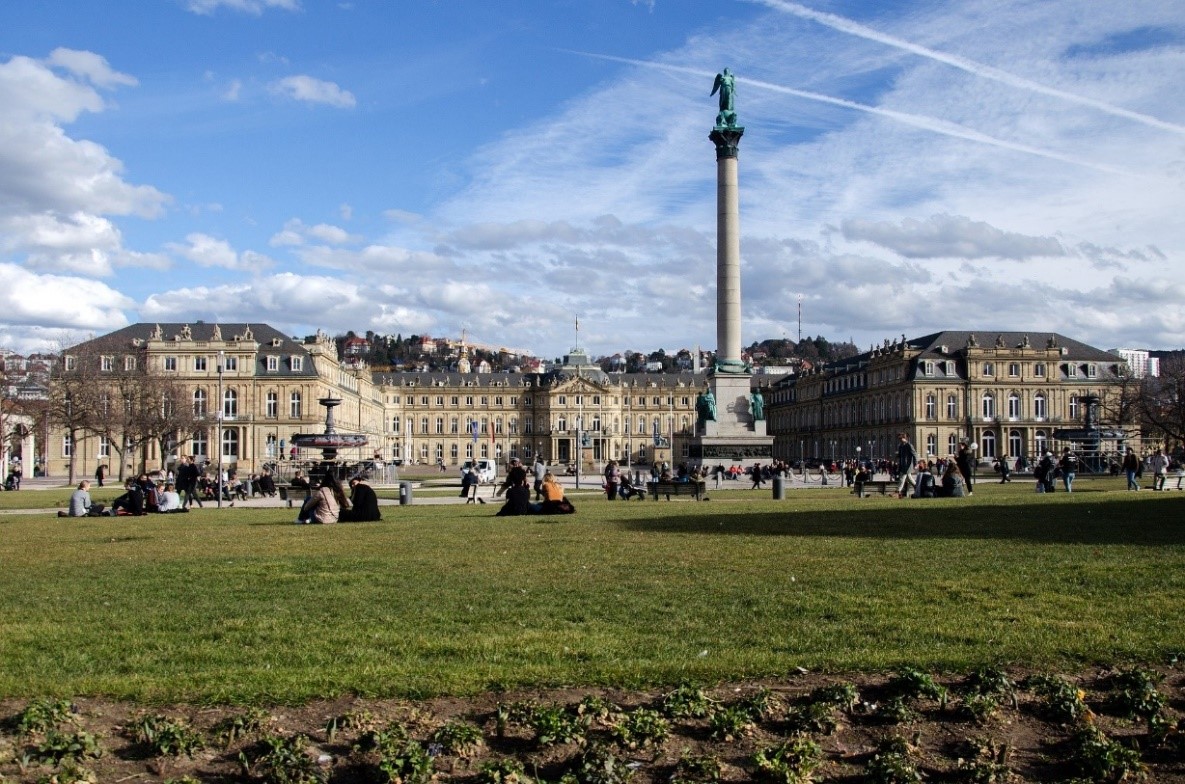 Wednesday, April 17th
Arrive in Stuttgart; check in at Steigenberger Hotel Graf Zeppelin
Welcome to Germany dinner and drinks
After you check in and freshen up, you will have some free time until dinner. We recommend that you take a walk to help get over any jet lag. Turn right as you leave the hotel and walk to the Königstrasse – a pedestrian-only area with shops, museums, parks, cafes and more. This evening, we'll meet in the lobby to take a short walk to Carls Brauhaus for a traditional "Welcome to Germany" dinner where you can also sample the delicious local beer and wine. (D)
DAY 3 - Ludwigsburg Palace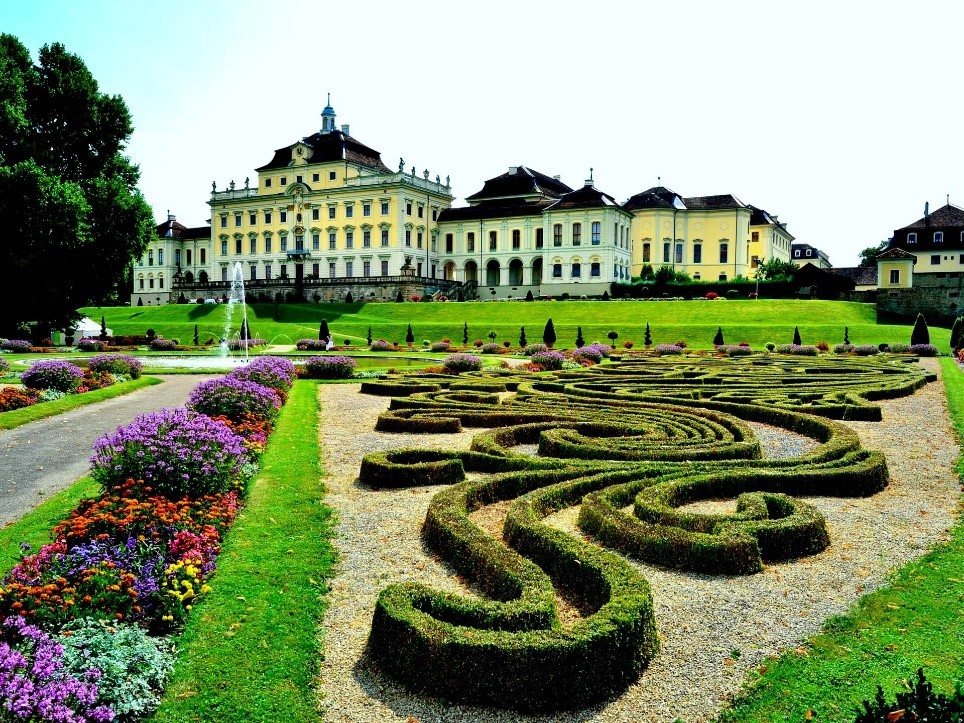 Thursday, April 18th
Lunch followed by Mandatory Drivers' Briefing and PORSCHE tour paperwork
Ludwigsburg Castle tour
Dinner and drinks
Enjoy breakfast in the Steigenberger Hotel Graf Zeppelin. Your morning is free to enjoy as you please. We will meet for lunch in one of the hotel's restaurants, the Stüble, followed by the important Drivers' Briefing where we will complete the PORSCHE tour and rental waivers.
After our briefing, our motor coach will transfer us to Ludwigsburg where we will have a fascinating tour of Ludwigsburg Palace. Nicknamed the "Versailles of Swabia," this 452-room Baroque palace complex has extensive gardens and is the largest palatial estate in Germany.
After we return to our hotel from Ludwigsburg, you'll have time to freshen up before we meet in the lobby for our short walk along the Königstrasse to the Schillerplatz for a delightful dinner. Tomorrow will be an exciting day after a good night's rest at the Hotel Graf Zeppelin. (B, L, D)
DAY 4 - PORSCHE Museum and Factory Tour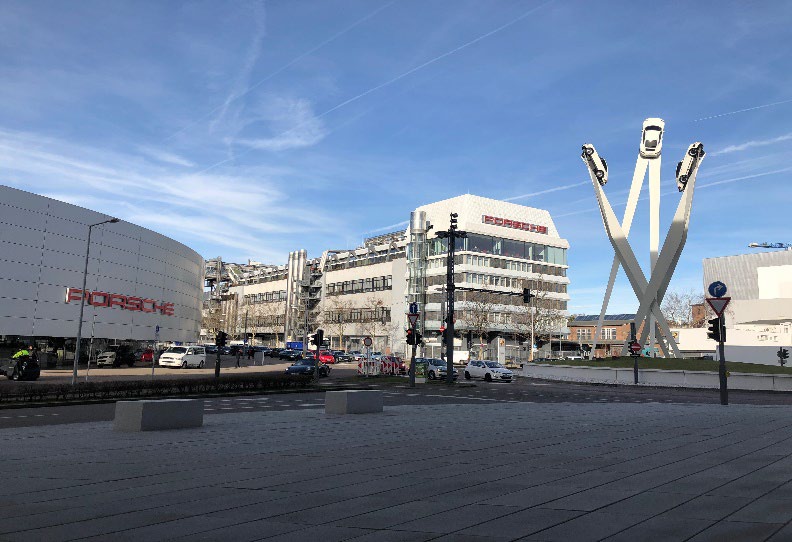 Friday, April 19th
PORSCHE Museum and PORSCHE Factory tours
Lunch at the PORSCHE Museum
Pick up PORSCHE rental
Dinner and drinks at Stuttgarter Stäffele
Enjoy another delightful breakfast in the Steigenberger Hotel Graf Zeppelin before boarding our luxury motor coach to Porsche Platz 1 in Stuttgart. You'll be thrilled by our privately guided tour through the PORSCHE Factory and PORSCHE Museum. You will also visit some closed-to-the-public areas like the New Car Delivery, Goodie Store and Special Selection. A fantastic lunch hosted by PORSCHE will be served to us at the PORSCHE Museum.
Later in the afternoon, you will pick up the PORSCHE you selected from the PORSCHE Museum. We will drive our PORSCHES back to the Hotel Graf Zeppelin where they will be securely parked overnight.
This evening, we will transfer to a fantastic restaurant, the Stuttgarter Stäffele, for a delicious dinner. Try the onion soup – it's served in a real onion instead of a bowl! After this exciting day, you will sleep well at the Hotel Graf Zeppelin. (B, L, D)
DAY 5 - Drive Bavarian Alps to Lake Constance (~340 kms)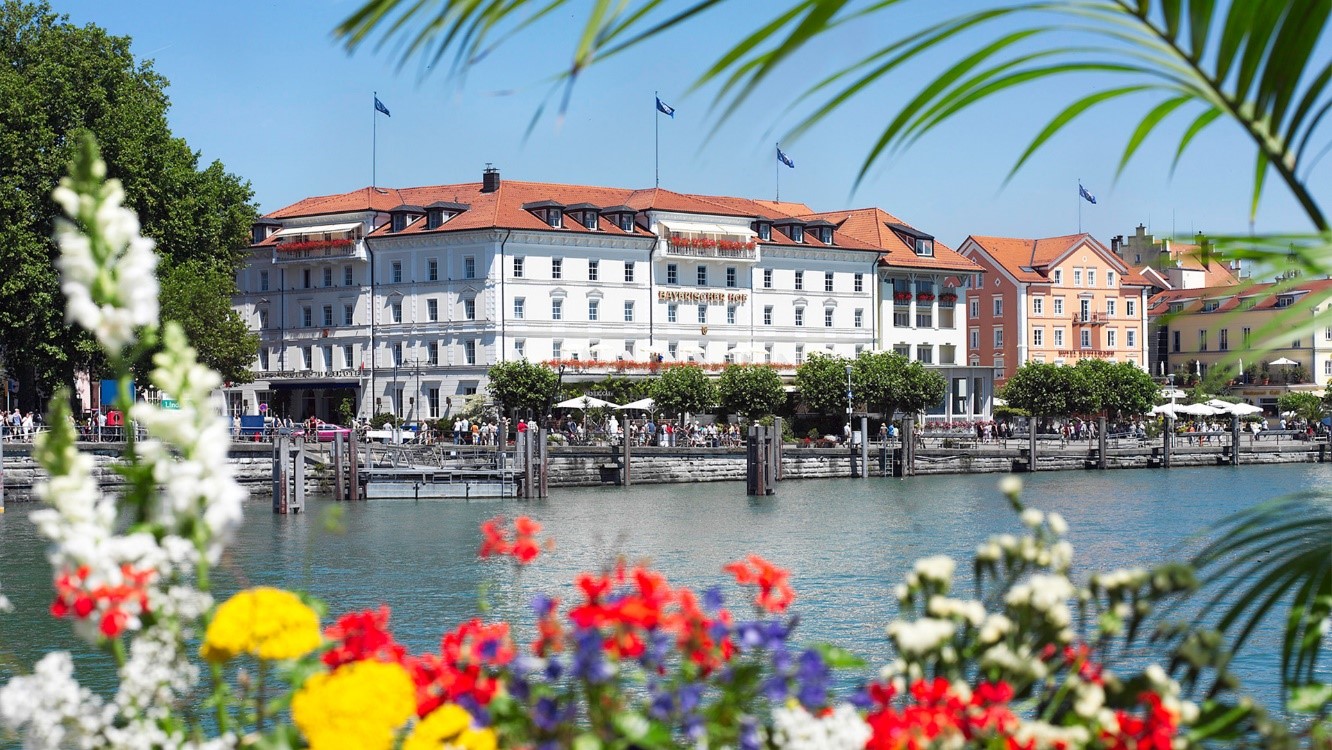 Saturday, April 20th
Drive your PORSCHE from Stuttgart on Autobahns to the Bavarian Alps
Lunch at Schlossanger Alp
Drive to Lindau on Lake Constance
Drinks and dinner at the 5-star Hotel Bayerischer Hof
Start your first driving day with a delightful breakfast at the Steigenberger Hotel Graf Zeppelin. After breakfast, check out and have your large luggage in the lobby ready to load into our luggage van. Our PORSCHES will be lined up at the hotel ready for our departure. After leaving Stuttgart, we'll drive the A8 and A7 Autobahns into the Bavarian Alps where we will stop for lunch at the charming and scenic Hotel Schlossanger Alp.
After a delicious lunch, we'll continue our drive to Lake Constance and the lovely island of Lindau. We'll check in to the Hotel Bayerischer Hof, a luxury hotel located on the banks of Lake Constance (called the Bodensee in German). Drinks and dinner tonight will be at this delightful hotel overlooking the harbor on Lake Constance. (B, L, D)
DAY 6 - Return to Stuttgart (~ 250 kms)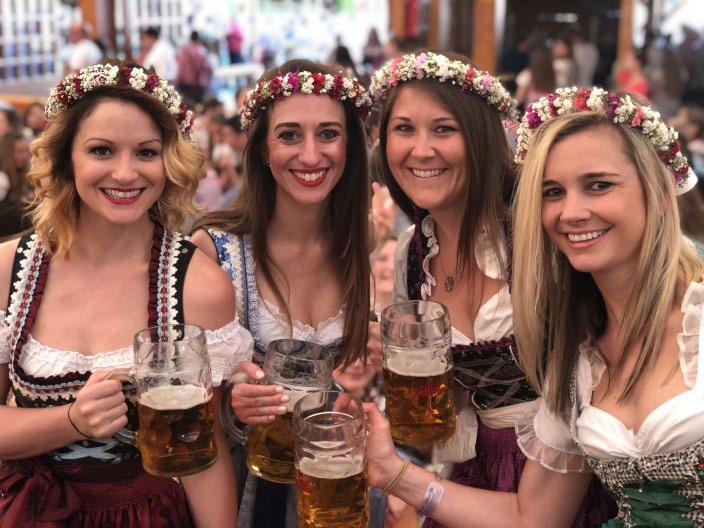 Sunday, April 21st
Breakfast at Hotel Bayerischer Hof
Drive back to Stuttgart
Return PORSCHE, check in to Hotel Graf Zeppelin
Evening at the Frülingsfest (Oktoberfest in the Spring)
Enjoy your last breakfast at the beautiful Hotel Bayerischer Hof. After loading your large luggage in our luggage van, check out and we'll begin our drive back to Stuttgart. Along the way, you may have the opportunity to join or renew your membership in Fast Lane Travel's 150 mph Club on one of the Autobahns.
We'll arrive back in Stuttgart where you must sadly return the PORSCHE you've fallen in love with! After returning the PORSCHES at the PORSCHE Museum, we'll transfer back to the Hotel Graf Zeppelin and check in once again.
After we freshen up, we'll meet again for our transfer to the Cannstatter Frühlingsfest. This is just like Oktoberfest in Germany, but in the Spring. Tonight, you'll experience the food, festivities, music and of course, beer, at a volks fest in Germany! We've reserved a private seating area in one of the famous beer tents. It's an experience you'll never forget and a wonderful end to your TREFFEN! (B, C, D)
DAY 7 - Depart Stuttgart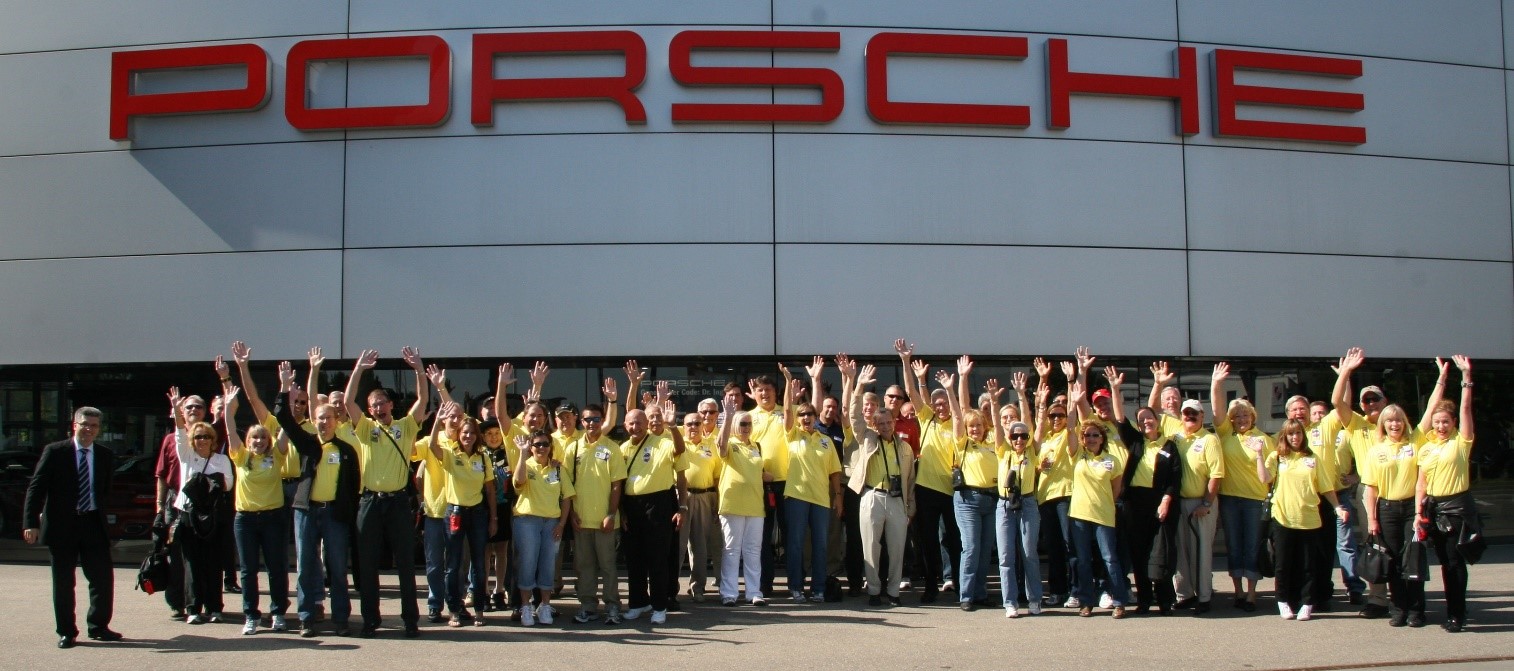 Monday, April 22nd
Depart Stuttgart and return home or travel on to other destinations
Enjoy another fabulous breakfast at the Steigenberger Graf Zeppelin. If you are departing for North America, you will be transferred to the Stuttgart Airport for your return flight. (B)