2023 CHRISTMAS Fest
This pre-Christmas celebration is another exquisite vacation experience in Europe from Fast Lane Travel, Inc. This tour will be led by Peter Sontag, our founder and CEO. He will be taking you to Germany and the beautiful country where he grew up, Austria, at the most wonderful time of year. He was born in Vienna, Austria and has celebrated over 20 special Christmases there.
You'll experience the holiday season as celebrated in Stuttgart, Salzburg and Vienna, plus you will visit numerous Christmas Markets (Christkindlmarkt) not only in Stuttgart, Vienna and Salzburg, but in other special places as well. Christmas Markets create an authentic festive experience unlike any in the United States. You'll be surrounded by aromas of gingerbread, glühwein and hearty German and Austrian street food. The wooden Christmas chalets throughout the markets display unique handmade crafts perfect for your holiday shopping, while the backdrop of Germany and Austria traditional architecture enhances the charm.
Join Peter on this wonderful experience in Germany and Austria, where Christmas décor is a fine art; where beauty, elegance, fun, culture and romance combine to create the most festive winter holiday atmosphere. An evening at the Opera in Vienna alone is worth the trip.
All accommodations, gourmet meals, cocktails and beverages, luggage van, taxes and gratuities are all included per itinerary. Don't miss out on all the fun – sign up today!
SOLD OUT
Monday, Dec. 1 – Saturday, Dec. 9
Deposit – $2,500 per person
$12,998 (per person, based on double occupancy)
$15,686 (per person, based on single occupancy)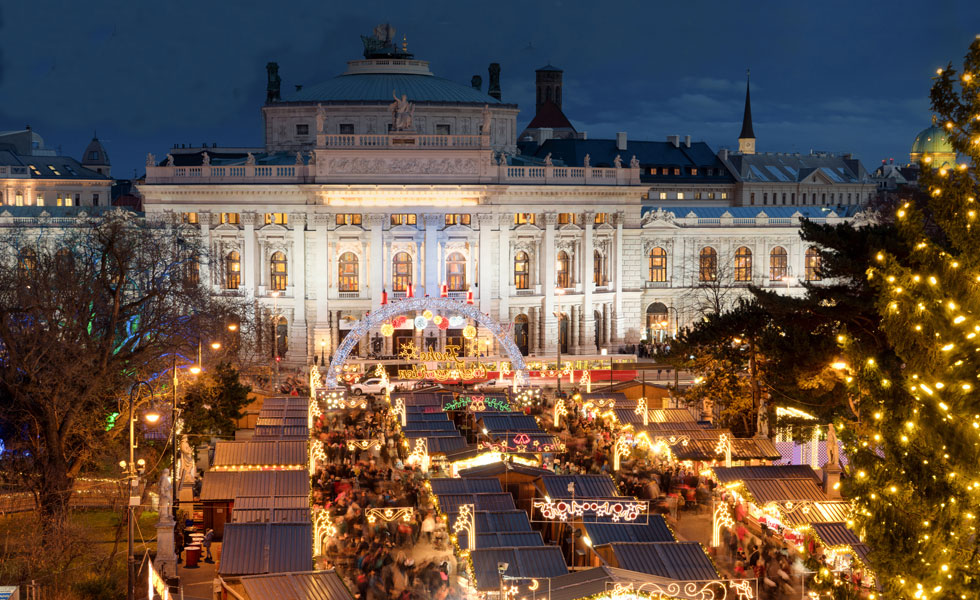 DAY 1 - Depart from Home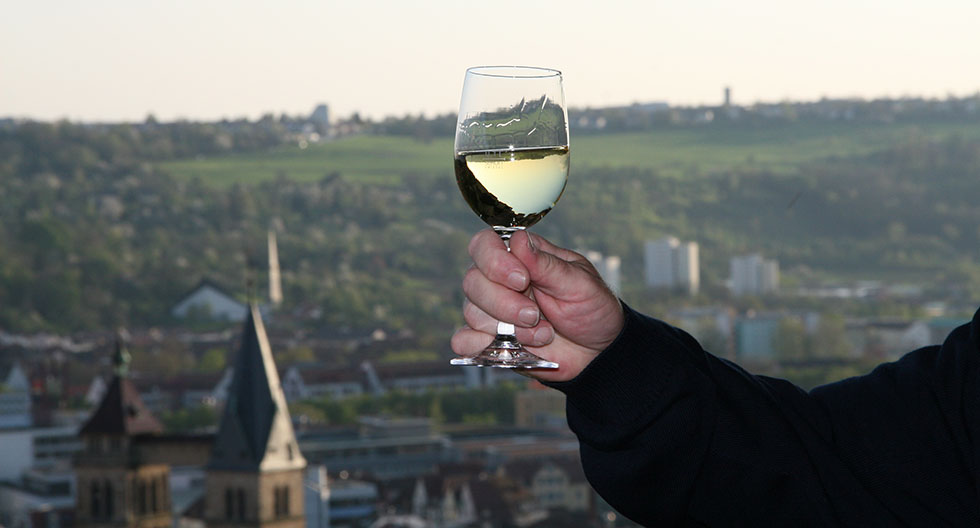 Friday, December 1 – Today you'll depart from home for your first destination in Germany: Stuttgart. You will be traveling overnight to a beautiful snow-covered new world. Time permitting, we recommend that you arrive a day early to get acclimated to the time zone differences. Ask us about our Early Arrival program which includes accommodations, breakfast and dinner. Susan, our travel agency manager, will be happy to arrange flights and trains and any other travel needs for our PORSCHE tour guests. PLEASE call 813 475 5989 or email her at Susan@fastlaneluxurytravel.com.
DAY 2 - Arrival in Stuttgart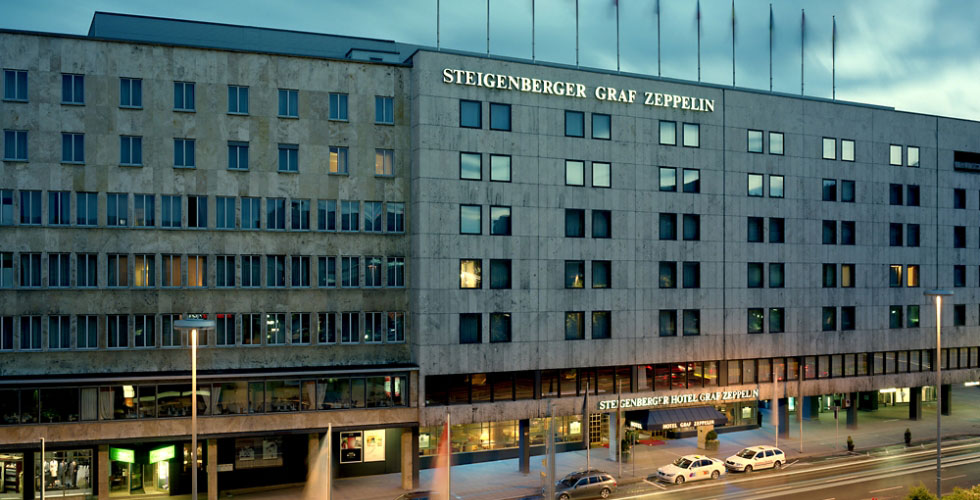 Saturday, December 2 – Delta 116 flies non-stop from Atlanta (ATL) directly to Stuttgart (STR) where you will be met and transferred to our hotel. If you arrive in Frankfurt (FRA), take the train directly from the Arrivals Terminal in FRA to the Stuttgarter Hauptbahnhof Station – it's a little over an hour. The Hotel Graf Zeppelin is directly across the street.
After you arrive and check in to the Steigenberger Hotel Graf Zeppelin, we'll meet for lunch in the hotel's casual Stüble restaurant
The rest of the afternoon is free. We recommend that you take a walk and get some fresh air to help you get over any jet lag. The Königstrasse is just a few steps away from the hotel where you will find shops, cafés, restaurants, museums and galleries. At the Schlosssplatz, you will come to your first Christmas Market! The Stuttgarter Weihnachtsmarkt welcomes over 3 million visitors annually to shop for wood toys, ornaments, figurines, and antiques and warm their bellies with mulled wine (Glühwein) and fresh gingerbread.
This evening we'll meet in the Lobby for our short walk to Carls Brauhaus for our Welcome Dinner, complete with outstanding beer and wine. You'll sleep well tonight at the Hotel Graf Zeppelin.
DAY 3 - Ludwigsburg Baroque Christmas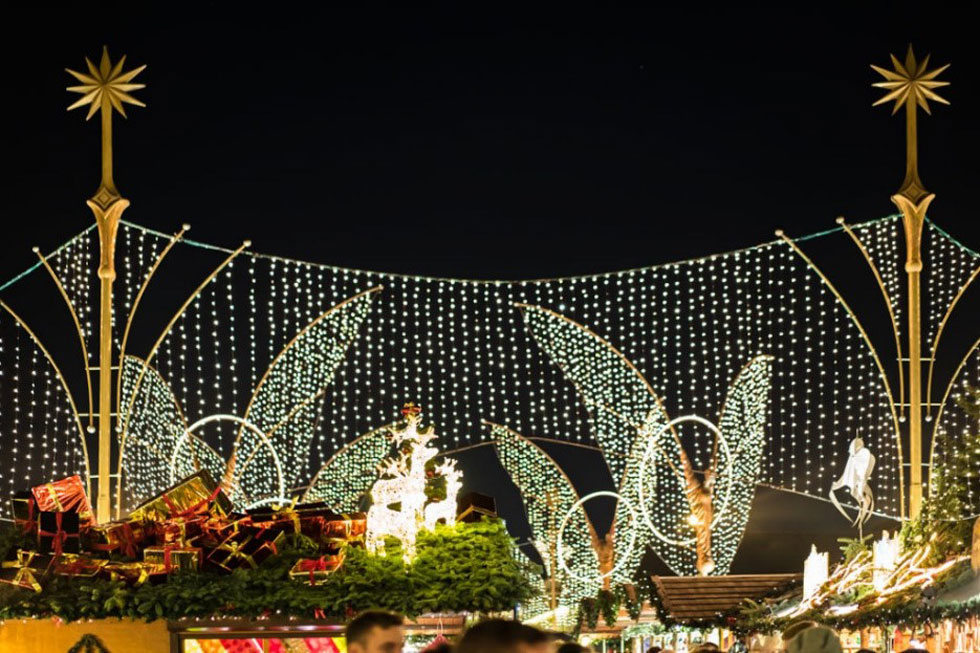 Sunday, December 3 – Enjoy breakfast in the Steigenberger Hotel Graf Zeppelin before boarding our luxury motor coach to the nearby city of Ludwigsburg.
Ludwigsburg hosts a superb Baroque Christmas Market each year, with the backdrop of the buildings around the Marktplatz accentuating that festive feeling. Ludwigsburg boasts colorful and ornate architecture from the 18th century including the Baroque Ludwigsburg Palace, nicknamed the "Versailles of Swabia", a 452-room palace complex of 18 buildings. This gorgeous Christmas market features beautiful light displays and is situated between two Baroque churches. Illuminated wings welcome you, and the entire Marktplatz is lit by chains of lights and shining golden angels.
Our motor coach will bring you back to the Steigenberger Hotel Graf Zeppelin, where you will have some free time to shop or perhaps indulge in a spa treatment. Tonight, we will enjoy a delightful dinner at the renowned Restaurant Stäffele. Try the onion soup – it's served in a giant onion!
DAY 4 - Train to Salzburg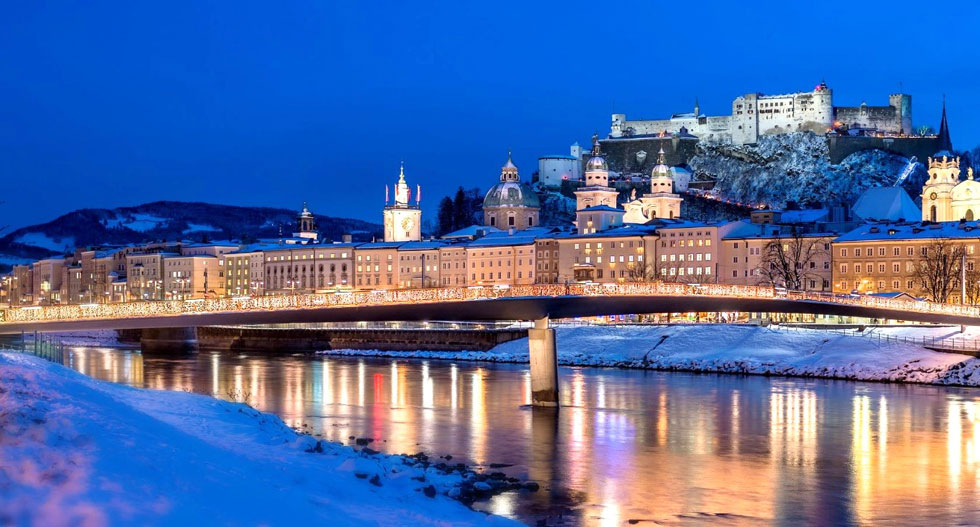 Monday, December 4 – This morning, after our delicious breakfast, we'll board our early-morning First-Class high-speed train to Salzburg, the Sound-of-Music city. When we arrive at the Salzburg train station, we will be transferred to the 5-Star Hotel Sacher. This lovely hotel is located on the banks of the Salzach River, right across from downtown Salzburg, with breathtaking views of the old city.
Salzburg has approximately 130,000 inhabitants and is one of the prettiest cities in Europe. The popular movie, The Sound of Music, is based on the true story of the von Trapp Family in Salzburg at the onset of WW II and much of the beloved movie was filmed here.
After we check in, we'll cross the pedestrian bridge right behind the hotel and walk to the Restaurant Sternbrӓu for a delightful lunch of Austrian specialties. After lunch, you'll experience wonderful shopping on the Getreidegasse, the traditional Christmas Market in front of the Salzburg Cathedral, and the festive atmosphere of Salzburg.
Tonight, we'll enjoy a delicious dinner at the Hotel Sacher.
DAY 5 - Castle Heilbrunn and Salzburg Markets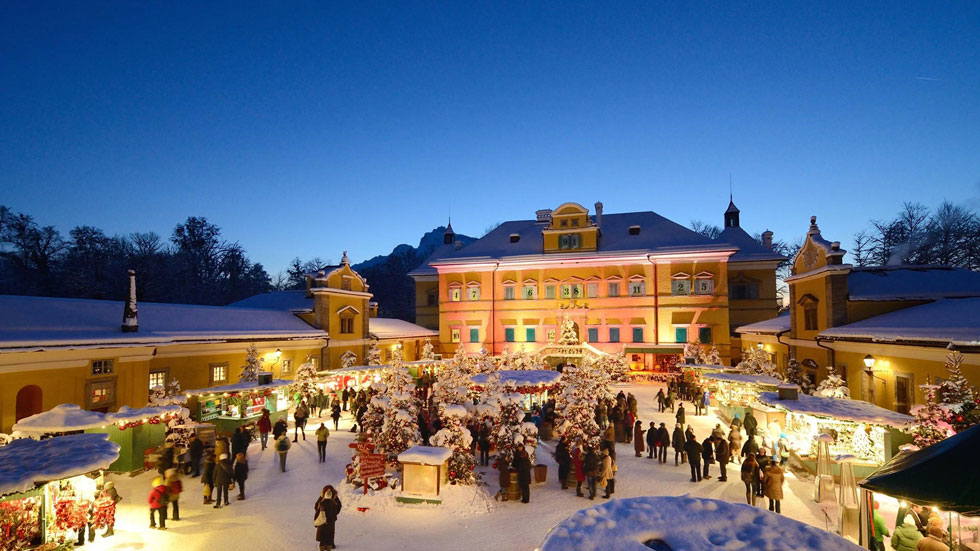 Tuesday, December 5 – You will be spoiled with a delightful breakfast at the Hotel Sacher in Salzburg. Following breakfast, our limousine service will take us to Castle Hellbrunn, which was built in 1613 A.D., to visit a unique Christmas Market on the grounds of the castle.
When we return to Salzburg, if you're up for another Christmas Market or just a fantastic view, take the "Festungsbahn" (funicular) to the top of the mountain to the fortress looming above Salzburg. From the fortress, you'll enjoy an unforgettable view over the city.
Stroll back to the Hotel Sacher at your leisure by crossing the "lock and key" pedestrian bridge. The local custom is to bring a padlock, attach it to the railing of the bridge and toss the key into the water. This symbolizes and displays the love and permanent affection for your "loved one."
Tonight, we'll enjoy another wonderful dinner at the Hotel Sacher.
DAY 6 - Train to Vienna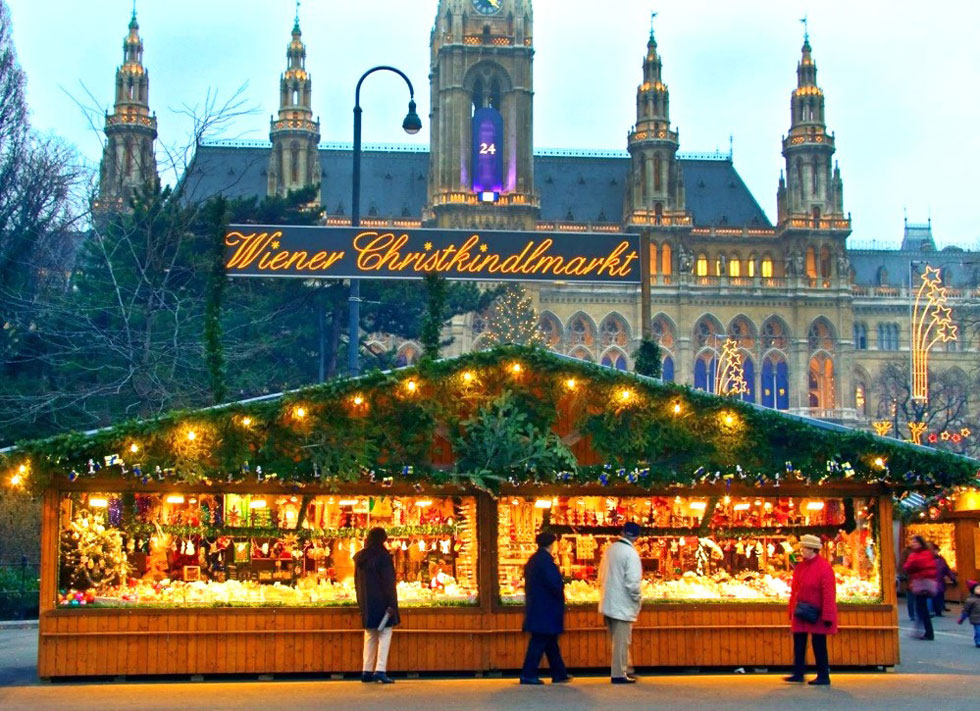 Wednesday, December 6 – We'll depart Salzburg early this morning for our 3-hour First Class high-speed train to Vienna. We will arrive at the Vienna train station late in the morning and transfer to our hotel, the elegant and centrally located Park Hyatt, in the heart of Vienna on the famous Ring Strasse. After you refresh, we'll walk around the "Innenstadt" (the downtown pedestrian-only shopping area) and then to the legendary Emperor's Patisserie, the world renowned Demel where you can see how typical Viennese cakes or strudels are made. We'll have a light lunch and perhaps a Strudel or Peter's favorite, Punchtorte.
After lunch, we'll embark on a guided walking tour of the center of Vienna. We'll stroll through the beautiful Graben and Heumarkt areas to the Rathausplatz to enjoy two of Vienna's wonderful Christkindlmarkt. You will find some of the most unique gifts and taste experiences there. Peter will also show you his favorite statue next to the Rathaus: "Der Wehrmann Wiens."
Tonight, we'll have an lovely dinner, conveniently at our hotel, the Park Hyatt. You'll enjoy a delightful Viennese dinner along with a selection of Austrian beers and wines.
DAY 7 - Vienna and a Vienna State Opera Evening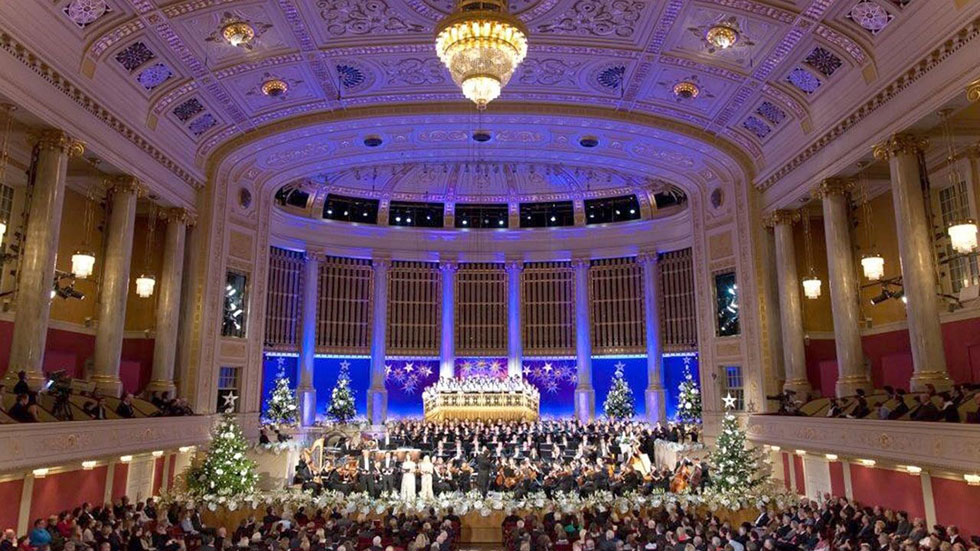 Thursday, December 7 – This morning after breakfast at the Hotel Park Hyatt, you have the remainder of the day on your own to enjoy this beautiful city. It's very easy to find your way around. Be sure to visit the Kärntner Strasse, Heumarkt and Graben shopping areas. Behind St. Peter's Cathedral on the Graben Square is one of Vienna's best chocolate shops, LeSchanz. Other favorites include a visit to the Manner Schnitten Shop – a Viennese institution; the Grocery Store Meinl on the Graben Square; and strolling through St. Stephen's Cathedral. All are within easy walking distance from the Park Hyatt.
In the late afternoon, we will be picked up at our hotel by famous "Fiaker" horse-drawn carriages and transported to dinner. Tonight, we will enjoy an early dinner at the 5-Star Vienna Park Hyatt to be ready for our gala evening at the Vienna State Opera House — THE most spectacular venue to experience any performance.
The Vienna Opera House was virtually destroyed during the bombings of WW II but was lovingly re-built. The Opera schedule shows tonight's performance to be Puccini's Turandot, a real treasure. Even if you are not an opera buff, this will be a lifetime memory.
DAY 8 - Sightseeing in Vienna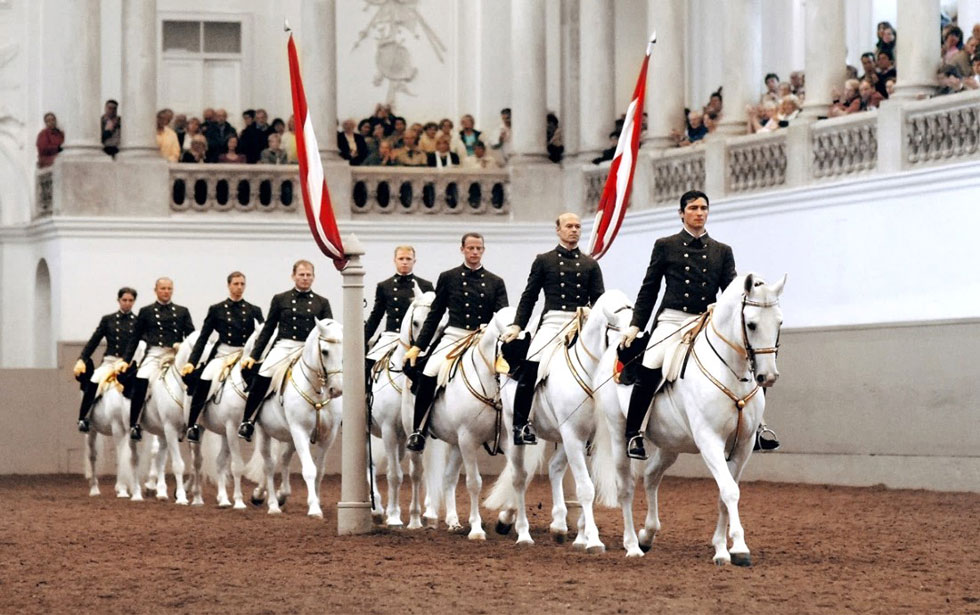 Friday, December 8 – This morning after a lovely breakfast at the hotel, our guide will pick us up and take us to the Spanish Riding School where we will attend a training session of the famous Lipizzaner horses.
After the show, we'll enjoy a unique lunch at the Restaurant Trześniewski with THE most amazing sandwiches. Following lunch, we will visit the Zentralfriedhof. Beethoven, Mahler, the Strausses, Brahms, Schubert and many others are buried here. There is also a section of the cemetery containing graves of Russians killed during the invasion of Vienna in May 1945. It's a fascinating and very worthwhile place to visit. Peter will guide you personally.
Tonight, we'll enjoy a farewell dinner at the awesome Donauturm Restaurant. You'll get a sparkling nighttime display of Vienna at Christmastime from this rotating restaurant. You'll enjoy a delightful dinner while watching the lights of beautiful Vienna below.
DAY 9 - Return Home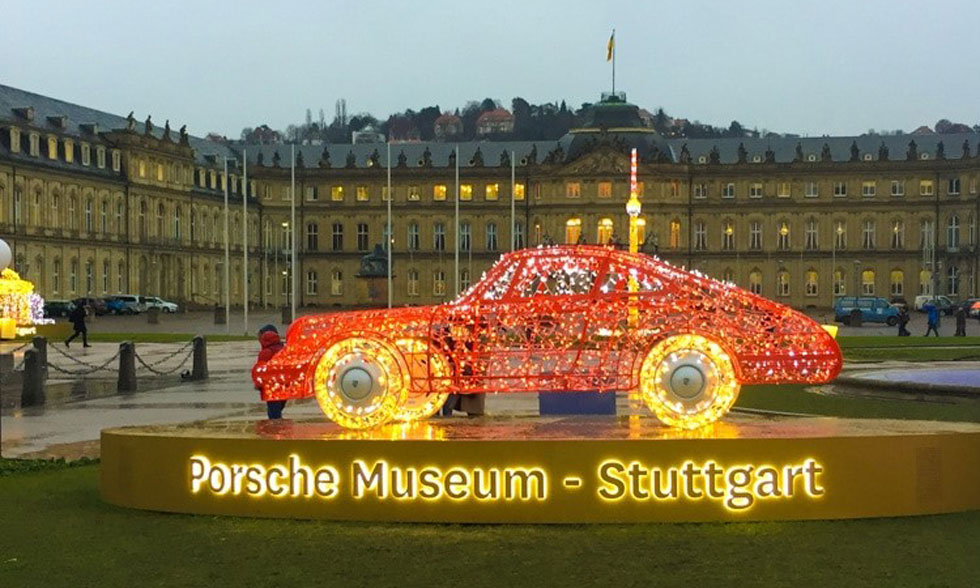 Saturday, December 9 – After another lovely breakfast, check out of the hotel. You will be transferred individually, based on your departure times, to Vienna's Schwechat Airport for your flight back home or to your next destination, undoubtedly laden with gifts and warm memories. Peter will provide you with your specific pick up times at the Park Hyatt Vienna.